How to Exploratorium, Embrace Embarrassment & Become a Resilient Leader
PLUS: Forging Personal Mythologies, Reckless Resumes, Invitation to an Entrepreneur-SHIP, The Not-Boring Club + The Spell of Total Work
Ahoy Fellow Curious Human 👋
📆 What Are You *Most* Excited for in 2020? // The theme of the year seems to be one of embracing transition. I'm reminded of the Anais Nin line that 'Life shrinks or expands in proportion to one's courage'—so with that in mind, I'm asking what expansive intentions I might set for the year (and decade) that awaits.
🌎 How to 'Exploratorium' // Last week I embarked on a creative pilgrimage. Tucked away in the northern corner of San Francisco there is a sacred temple to curiosity known as the 'Exploratorium'. As I wandered through their wonder-inducing 'explore-for-yourself' exhibits—what resonated most was their idea of the 'exploratorium-as-a-verb'—and how this lens of fascination served as an invitation to see the world through perpetually curious eyes.
📝 Resilience Survey // Sincere thanks to those of you who took the time to complete the emotional resilience typeform survey in January. The response has honestly felt a little heart-wrenching—we've received over 230 stories of burnout (more coming through every day)—which has left me feeling responsible and fired up to create something genuinely helpful.
🧘‍♂️ Download a Resilience Meditation // one of the most underrated uses of meditation is as a tool for processing challenging emotions. I've recorded a (15 min) emotional resilience meditation—designed to guide you through the process of integrating + extracting insights from triggering experiences. You can listen or download free here (offered as a gift, but feedback is always appreciated).
As always, please do reply or share any reflections in the comments. I'll leave you with a prompt question that has been on my own mind lately:
Who will you be, when you finish being who you think you are?
Stay Curious Out There!
Jonny
p.s. what is the weirdest job you've ever had? A good friend is crowdsourcing fun ideas for a 'reckless resumes' project—celebrating your odd jobs, semi-illegal income streams, and the quirky stuff you'd never actually put on your resume—share yours over at recklessresume.com.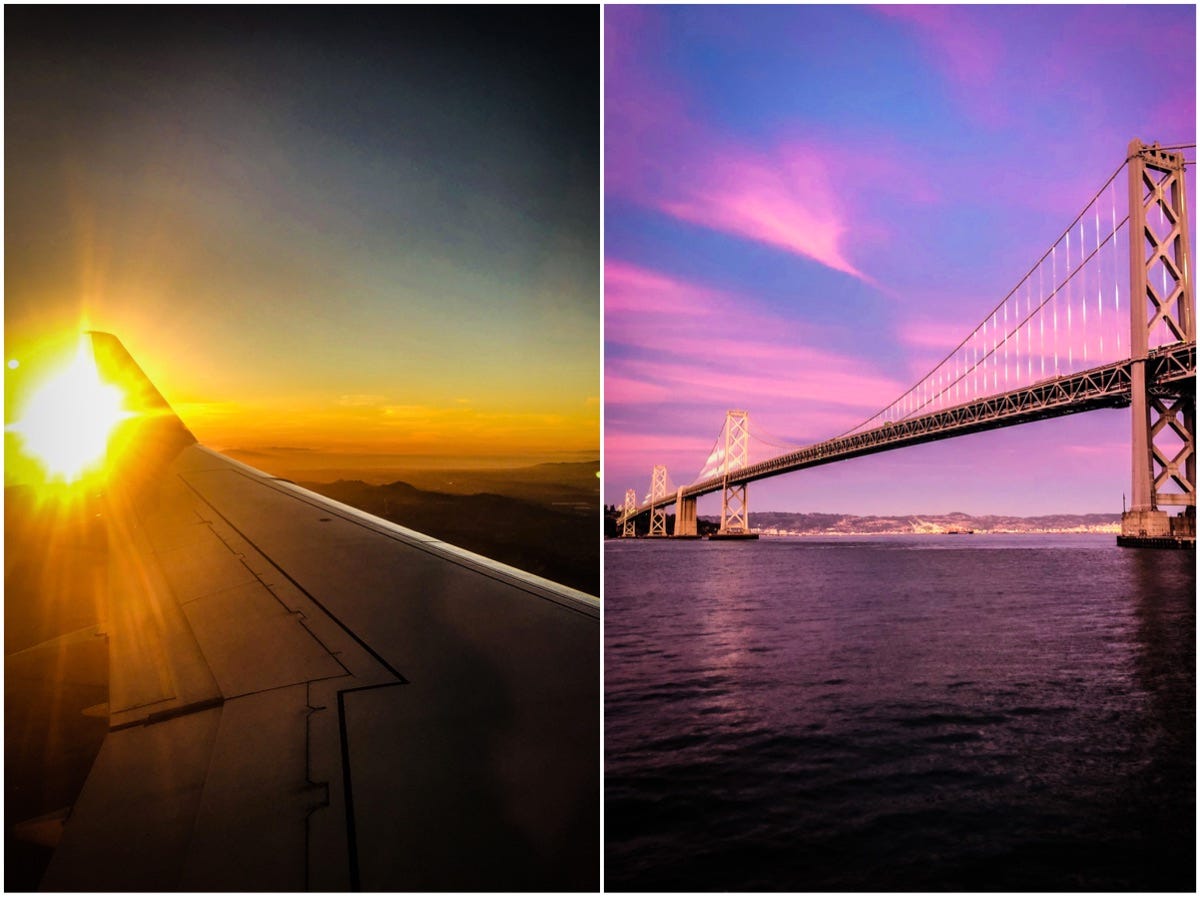 📸 Left: sunrise above San Francisco // Right: San Francisco sunset at sea level
---
On Becoming a Resilient Leader 📝
This felt like one of those posts that I wrestled with & felt rather nervous to eventually hit publish, but I'm proud that it's now out in the world (below is an extract).
---
It's common to hear that we should learn to be resilient, yet far from being an innate character trait, resilience is a skill that must be practiced — which requires permission to invest time & resources into cultivating it, which for most people is a financial constraint.
I was fortunate to spend a week wandering the west coast of Ireland with the poet David Whyte in 2018 and he shared something that has stuck with me:
"Work is where we can make ourselves; work is where we can break ourselves."
Many of us find purpose through our work, and push ourselves hard, but this has lead to significant burnout especially with those in positions of responsibility, both publicly and behind the scenes.
Whilst certainly not limited to the financial costs: founder and leader burnout severely impacts the bottom line of companies — yet it's still not taken seriously at work.
Given sufficient time for recovery and processing, these 'stressful obstacles' forge resilient leaders. It is the alchemy of turning challenging setbacks into fuel for both personal & professional growth and ultimately into wisdom.
In fact, being in a position of leadership is one of the most efficient vehicles of personal growth imaginable. The level emotional intensity (eustress) will serve to surface your previously unexamined fears, insecurities and limiting beliefs.
So the question becomes, how do we train our resilience to stress as the path to growth?
---
Emotional Resilience World Tour 2020 🌎
The four locations and dates for the 2020 Emotional Resilience Masterclasses are set and places are filling up fast (limited to 24 per location).
I'll be facilitating these day long experiential workshops—designed to expand your capacity for confronting fears, and identify avoidance strategies—attendees will leave knowing how to remain centred in challenging environments, hold space for their teams and embrace their leadership potential.
If you know of any founders + leaders who may be a suitable fit, I would be grateful if you could forward this newsletter to them or put us in touch.
🌉 San Francisco // March 27
🇸🇬 Singapore // April 22
🇬🇧 London // September 25
🌴 Bali retreat // October 26-29
---
📸 Captured in South Ubud // above the rice paddies (close to our retreat location)
---
📆 What Events Are You Excited For in 2020?
The calendar is quickly filling up with exciting events! Here are three that I'm especially looking forward to (and would love to see fellow Curious Humans at):
🇲🇽 Founder Summit // Mexico City, March 13-15—curated by Curious Humans reader and Earnest Capital founder Tyler Tringas—I'll be running a workshop with Anne-Laure on Mind-framing + Resilience for founders.
🚢 Entrepreneur-SHIP // Departing from Rome, June 7-11—stopping off in St Tropez, Tuscany + Monte Carlo… but luxurious locations aside, the attendee line-up is shaping up to be rather exceptional (I'm an ambassador and it's invite only so let me know if you're curious to jump on board).
🌎 World Domination Summit // June 23–29 in Portland—Already sold out! But spare tickets are available via their FB group. It'll be the 10th and final WDS, having attended the previous two I'm excited to see what they team have in store!
---
Two Ideas Worth Sharing… 📝
1 // Why You Should Create A Personal Mythology 🐉
I spent a couple of days last week with previous podcast guest and thoughtful human Buster Benson and our conversations took an unexpected deep dive into the world of tarot and mythology.
Mythic mode is a way of looking at the world through a story-like lens. When you enter mythic mode, you recognize that you're a character in Omega's story, as is everyone else.
Embracing mythic mode feels like a medicine for our times. We crave story a+nd archetypes—they give us relief from the the anxiety of our perennial problems by creating spaces for shared meaning-making.
The realm of myths, the archetypal lens, and mythic mode are different ways of seeing this way of connecting our reality to the universal story directly.
He acknowledges that this post is just a working 'scratch pad' and that the real work is to internalize the mythologies in order to better participate in the world's problems and opportunities. Read Buster's full post here.
---
2 // Embracing Embarrassment + The Power of Not Knowing 🤔
I have been following the executive coach Ed Batista on Twitter for some time (he lectures at Stanford on the 'Art of Self-Coaching') and this piece of his on the power of not knowing really resonated (extract below, bolding mine)
"Life is full of potentially embarrassing moments, and we have to learn to navigate them without undue distress--but at times our efforts to avoid embarrassment come with a cost. A common scenario in which this occurs is when we realize that we're expected to know something we don't, and we seek to cover up our ignorance."
He goes onto share how we often feel obligated to have the correct answers (in my view this is a hangover from our archaic schooling system). It's funny how afraid we are to simply admit when there's something that we don't know, and forget that this comes with a cost:
"It's easy to bluff our way through these situations, but this comes at a cost: When we prioritize our desire to avoid embarrassment, we relinquish the power of not knowing."
---
🔗 Et Cetera
🚶‍♂️ How to walk + talk
☄️ Per aspera ad astra
✏️ Why writing matters
🧚‍♂️ The spell of total work
💯 1,000 true fans? Try 100
😃 Join the not-boring club
👪 How to build a micro-tribe
🥣 When in doubt, make soup
🌴 Do you fear taking time off?
⏳ How much work is 'enough'?
📝 Beautiful app for self-reflection
🤔 How to choose what to work on next
🙏 How mindfulness helps solve problems
🙌 Make 2020 the year of maximum enthusiasm
😨 Healing Trauma & Awakening the Vagus Nerve
---
📝 Parting Poem
This isn't one of mine, but written by Guillaume Apollinaire, I've revisited it many times recently and it feels like a prayer to courage (which we could all use an extra dose of every now and then!)
"Come to the edge," he said.
"We can't, we're afraid!" they responded.
"Come to the edge," he said.
"We can't, We will fall!" they responded.
"Come to the edge," he said.
And so they came.
And he pushed them.
And they flew.
📸 Left: Sunset at Lake Tahoe // Right: Sunrise through the trees in Nederland